Photography
Find CBE photos to use in your work. Feel free to reach out if you don't find what you are looking for. Photos continue to be added.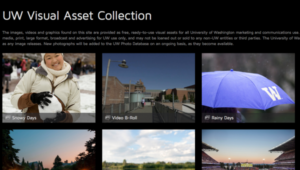 Visit the UW Visual Asset Collection for photography and video b-roll. Log in with your net id to use this resource today.
Visual Resources provides image and video services to meet the teaching and research needs of the College of Built Environments community. Students and faculty are invited to access images and research assistance at the Image Library or through our online image database.
Visual Resources is open Monday through Friday, 10 AM – 4 PM, and other hours by appointment. Contact the director of Visual Resources, Joshua Polansky, at vrcbe@uw.edu.
How do I get more images?
Collect images from your students and faculty.
Hold a department photo contest.
Grab a camera and take some! Your cell phone camera will work just fine.
Browse or search the collections below.
Inquire with CBE Marketing & Communications or University Photography about taking photos at a special event or for a specific purpose.
If you are taking photos, make sure you get a Personal Release form signed.
Accessible Accordion
Alternative text (alt text) should be added to all images uploaded to a website's media library and added on social media when posting. Alt text should be succinct and explain what the image is if the user cannot view it. It is used by screen readers, search engines, and text-only browsers. By adding alt text you improve accessibility and search ranking.
Here are some articles that explain in greater detail how alt text is used and how you should decide what to include as your alt text:
UW: Making Images Accessible
WebAIM: Alternative Text
About.com: Writing Great Alt Text